Blockchain? Distributed Ledger? Thoughts from less-of-a-n00b (p2)
Posted by Raluca Turcanasu on / 0 Comments
It did take me a while to get back with the part 2 of this article. That's because I jumped quite deep into the blockchain topic (for a person that didn't know virtually anything about it until 2 months ago) and I've compiled some additional resources to crack this shell.
Cryptocurrencies? Distributed Ledger Technologies? Blockchain?
Quite fuzzy terms, what's the difference? Here are some resources that enlightened that for me.
Check this intro here, from Brian Behlendorf, the founder of The Linux Foundation:
I do ask you: give it your best shot, I have this skin-deep belief that these distributed ledger technologies are our chance of reconstructing our corrupt-to-the-bone societies.
The basic faults in our societies and economies come from UNCERTAINTY, the lack of visibility into a transaction. For example, we use bribe, to make sure something uncertain become more certain.
Bettina Warburg explains this mechanism and how the distributed ledger technology can solve it, here:
Mainly, we don't have visibility into our transactions with the state. But in a blockchain everything is transparent:
No hiding where our taxes go. In a blockchain.
No hiding where our votes go. In a blockchain.
Yes, votes are also a transaction that can be token-ized.
And for all of this we already have the tech part solved…well, the most of it.
Did you know that Ethereum does not only lay the foundation for cryptocurriencies (Ether being just one of them), but also provides the technical framework of constituting a blockchain technology?
You can just grab the code from here.
Let's check some thoughts from Vitalik Buterin, one of the the genius minds behind Ethereum, regarding the future of blockchain and privacy.
Do follow his speeches to see where this technology is headed, where lies the potential and also the risk. He just talked at BeyondBlock Taipei 2017 on Ethereum 2.0. Wait, whaaaat?
Yeah, an upgraded Ethereum blockchain that aims to solve privacy matters 100% and also have scalability.
Talking about Ethereum, let me go back to Websummit, where we had another of its founders on stage, Joseph Lubin. 
The panellists talked where would the music industry be if it employed a blockchain model, removing the intermediary and granting the artist a direct access to the consumer. At the moment, the music industry is not artist-centric, but business-centric or platform-centric.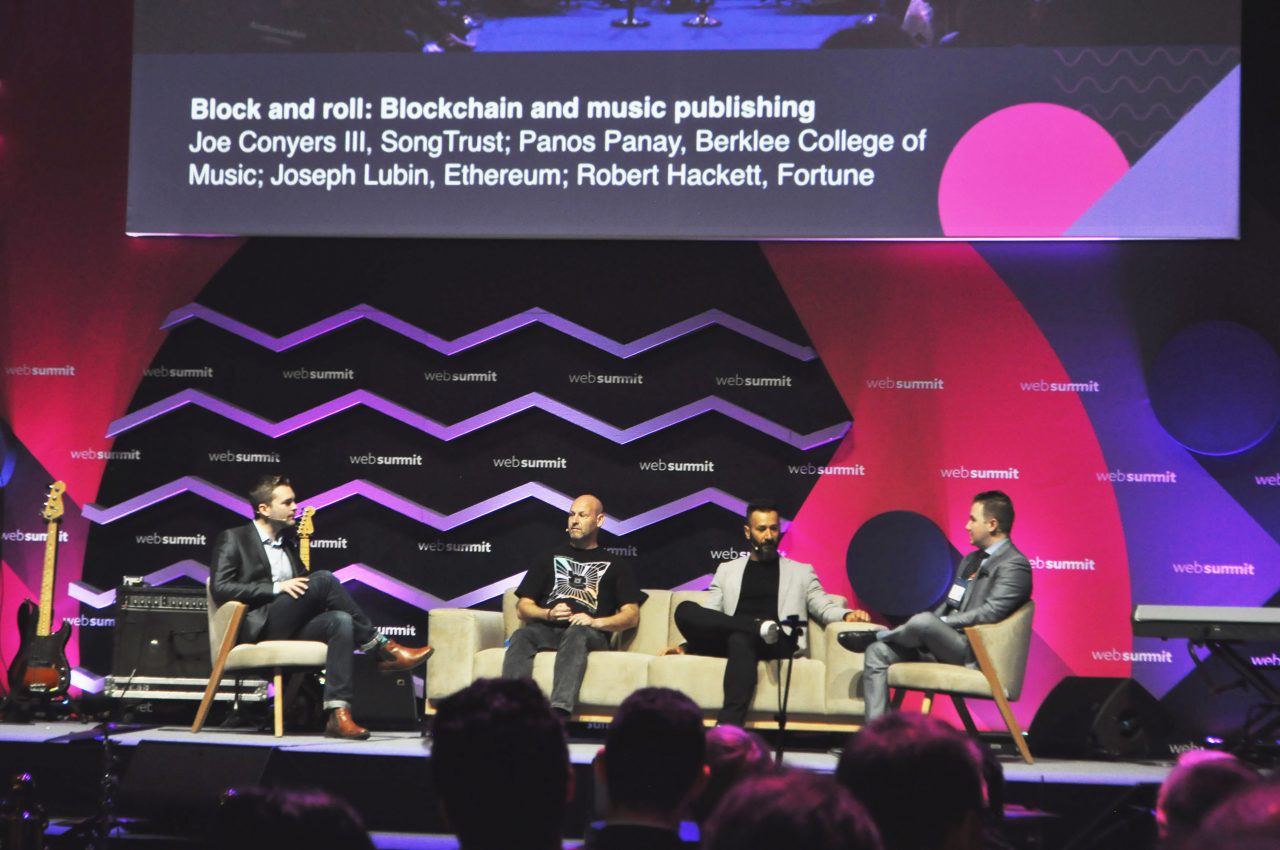 It's starting to slowly reposition itself and rethink its product and its business model, but the barriers to entries are still huge.
The future is for open innovation environments, in which money moves in real time. The derivative work artist (and the initial artist alike) would be able to onboard himself, to tokenize his content, set his boundaries and get a direct relationship and outcome from his work.
Watch here the entire talk: https://www.facebook.com/WebSummitHQ/videos/1597436103655761/
Let's start today to build the tomorrow that we want. 
A final recommendation for the go-do mindset: this beautiful documentary about people who have decided to start rebuilding their local communities, from neighbourhood veggie gardens to cities using their own coins. We can live in better societies if we put our minds and heart for it and use such frameworks & tools in the positive, ethical manner.
Tomorrow from Under The Milky Way on Vimeo.