A few notes on the Creativity 4 Better IAA Conference #5
Posted by Raluca Turcanasu on / 0 Comments
I should start by thanking Diana Flutur & Victor Dobre from IAA Romania for managing to pull the inspiring Creativity 4 Better online conference and bringing an engaged, curious audience in spite of the zoom event fatigue 👏
I really found great value in many of the sessions so here's a briefish digest of Creativity4Better 2021. (and I do hope we'll be able to meet each other in person for the 6th edition!)
1/ What better way to kick it off than with Sir John Hegarty
 Is advertising to be treated as a brand or a commodity?
That was the key take-out from Hegarty's talk, who critiqued brands stopping advertising whenever there's a crisis, just like you'd stop gas.
Addressing the challenges of the industry can only be done by attracting & retaining the best talent, from creatives to strategists. The best people than make a positive change to the industry.
He also focused on the importance of knowing the history of advertising, just as important as any craft's history for those who practice it.
"Agencies should have standards and values, just as brands, and they should refuse clients not aligned with their values."
If you love this industry you need to make a stand.
Example: junk food. Advertising = not my problem. Legislators= ok, stop the advertising. But isn't the problem the large food companies making these products?
So, is it a brand, with values, with believes, or is it a commodity, like electricity, just turn it on, turn it off?
Selling, but making a brand part of culture. The power of fame.
Why doesn't advertising have a code of practice, like other industries?
Quite disappointed with the face of the industry today, and emphasized the issue of trust in the industry.
Key take-out:  "The only strategy that you can think of is the truth".
2/ LEGO: Learning through play with Claire Miller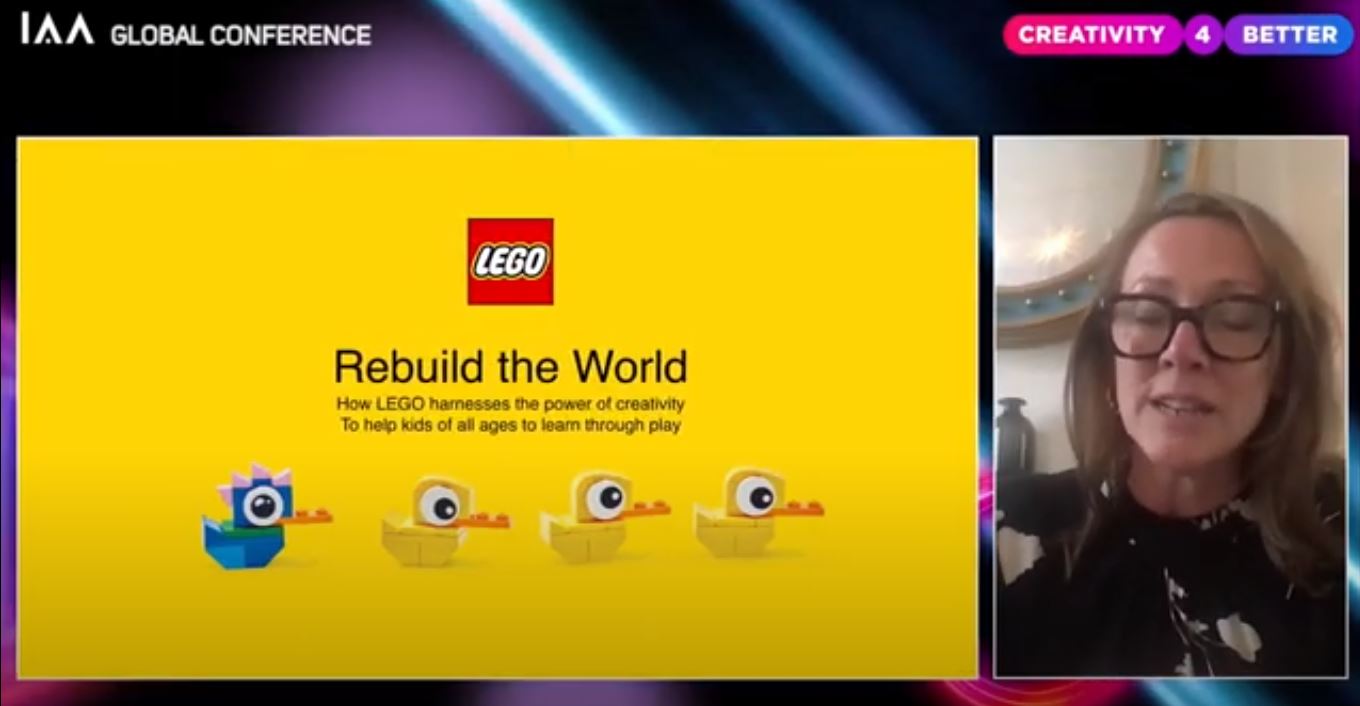 How does Lego help kids of all ages harness the power of creativity?
Using tech to enhance PLAY.
Kids are playing less and less. Because kids are overscheduled, we live in an achievement culture in which there's also a fear of being outside.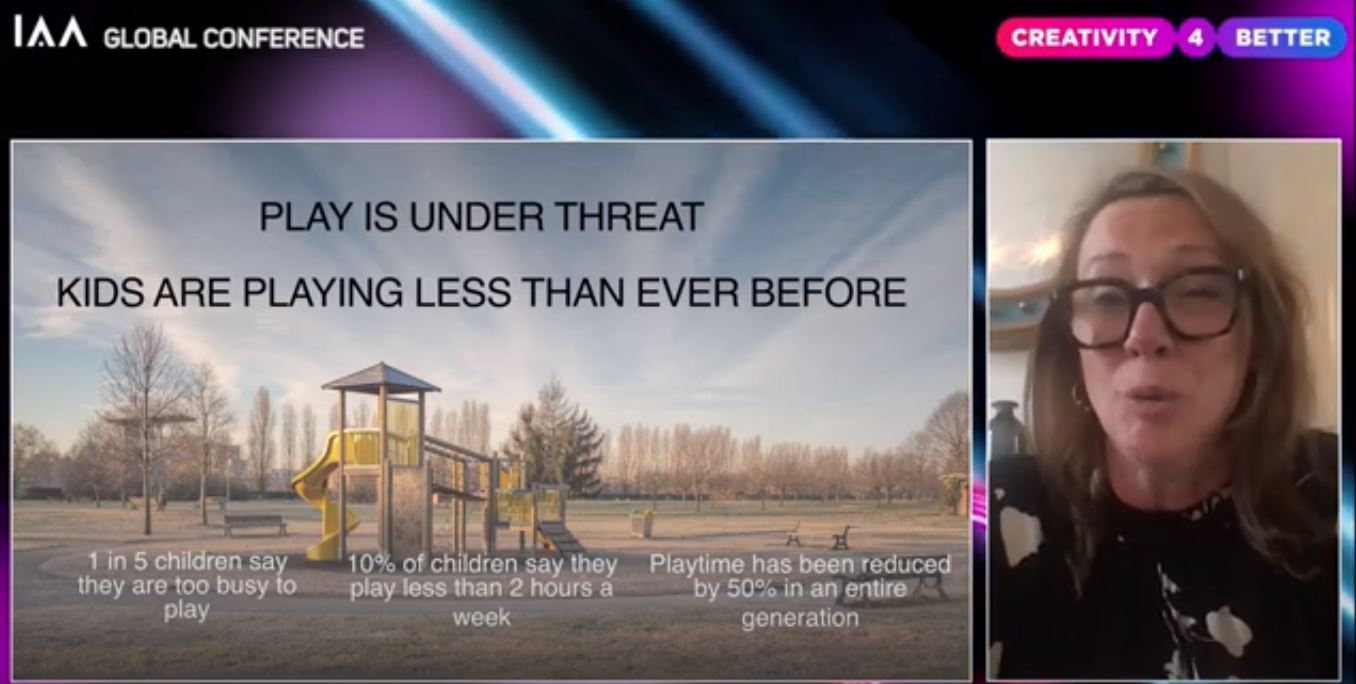 Also, what they learn now in school will become obsolete in a decade. And, even though parents often know the value of playing, they don't prioritize it.
Skills learned through play: collaboration, problem solving, creative skills, language skills, communication skills.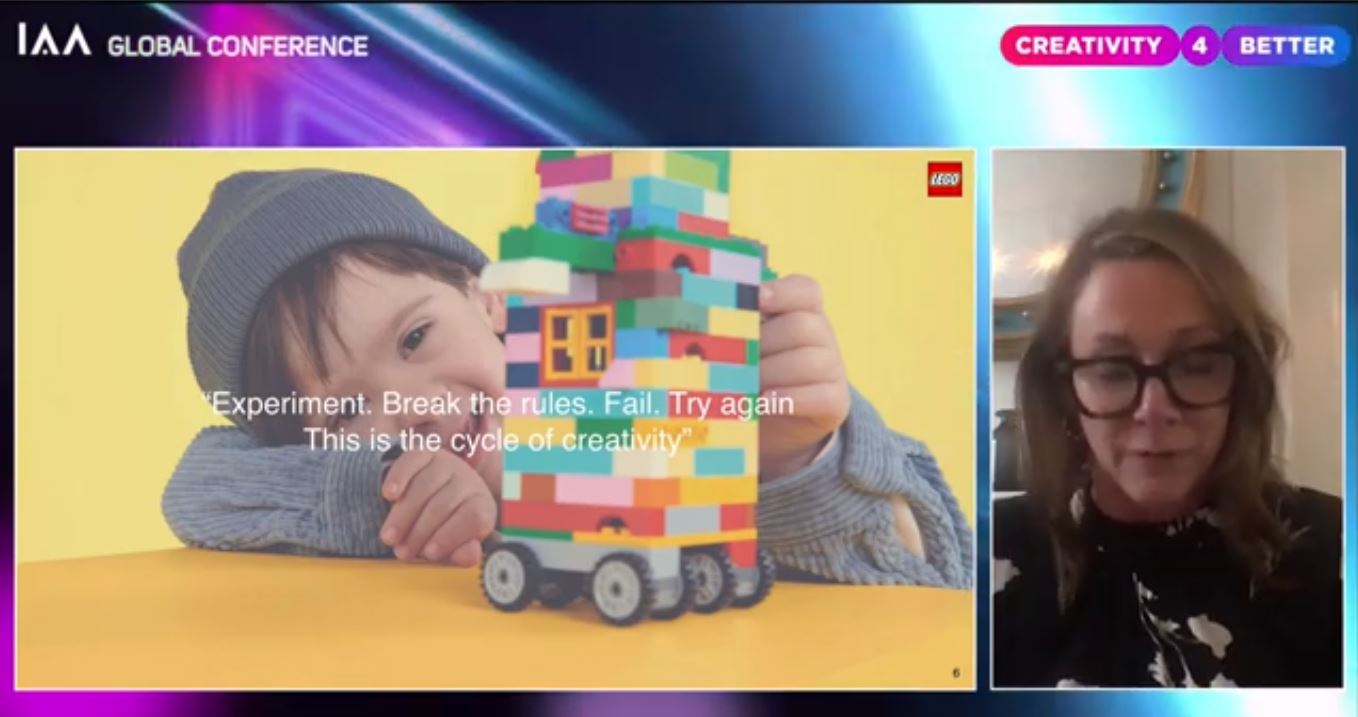 Lego: a toy that prepares the child for life!
Vision: to encourage the world to see the value in creative play by showing how it unlocks kids' potential.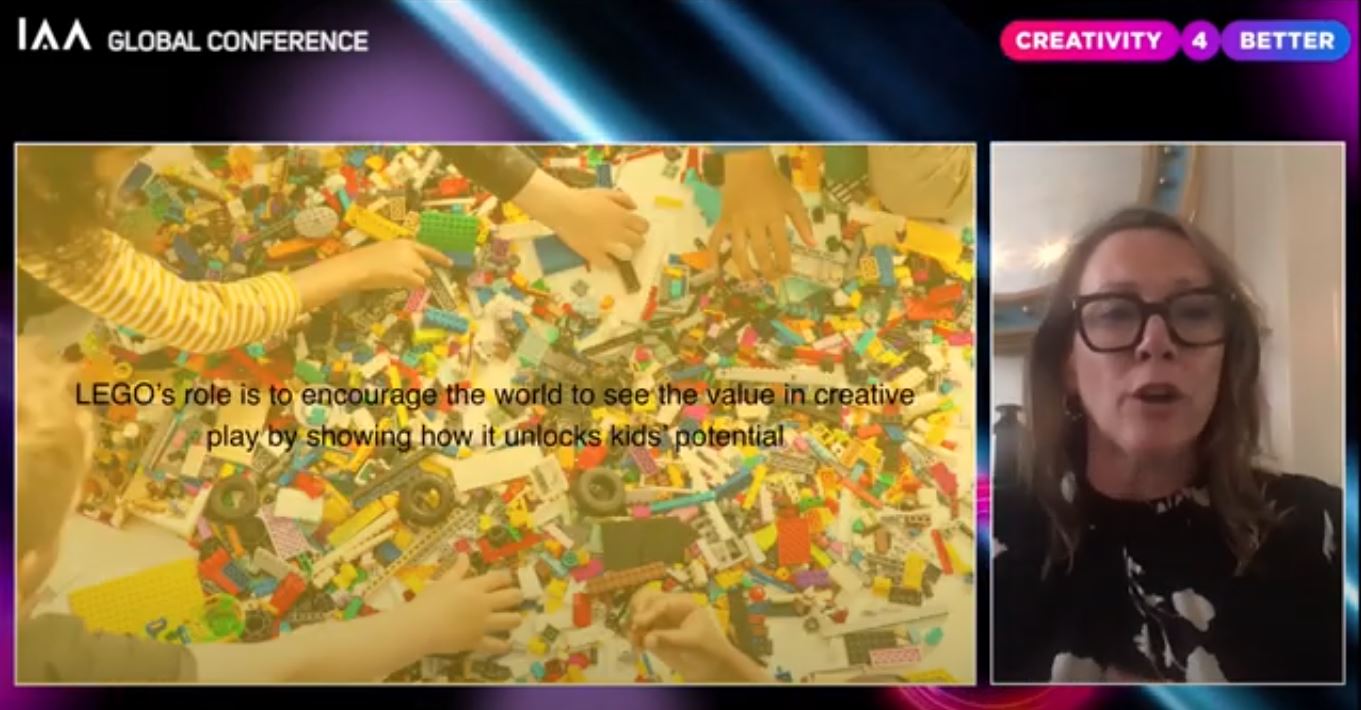 There are people who believe unicorns don't exist… Brand ad:
Kids like to play a simulacrum of life, and nowadays they are so connected through social media that they know a lot of what's going on in the world, and they use Lego to enact that. Often, they are mini-activists and want to have their voices heard.
So, in Lego City, the company has built an environment in which kids can decide, take control and learn about the world.
Vidiyo – another Lego digital product to support kids' creativity in contemporary expression> music videos.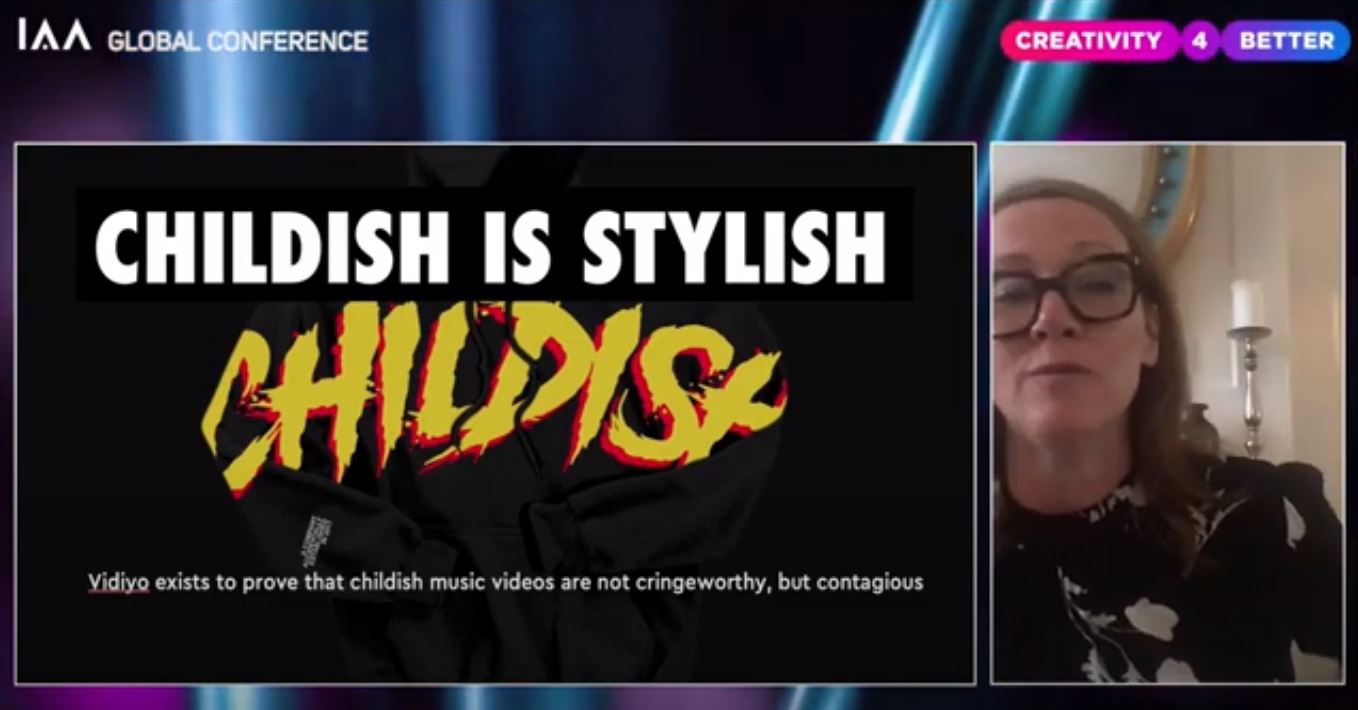 Lego is catering to various needs & passions through play, from music making to Star Wars or construction (Lego Technic) and STEM.
Women 28% of STEM workforce, so girls have very few role models. So they try to change that, through play.

To inspire kids to become explorers, learners, creators, instead of followers.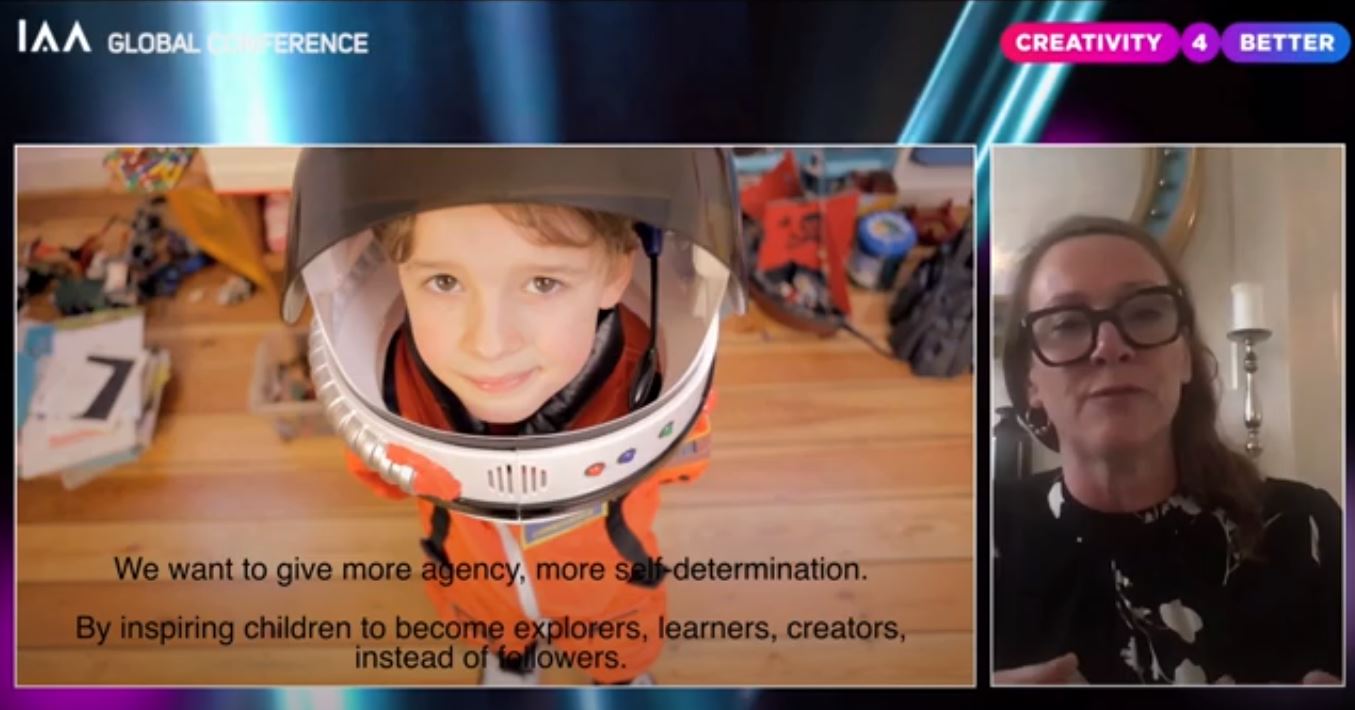 For a world in which everyone has a chance to be creative.
The Lego strategy for adults:
What is the truth that we are resolving for adults today?
INSIGHT: 40% of the adults feel stressed mostly or all of the time.
And we keep seeing around us the mindfulness movement, the slow movement
So they launched a whole campaign for adults finding their flow:

+ Partnership with Spotify, music out of Lego bricks hitting against each other.
It's not about taking PLAY into the tech space, it's about using tech to enhance play, offline. Always taking it back at the brick itself.
Claire Miller finished her inspiring talk with yet another brand initiative directed at adults:

The first day of Creativity 4 Better continued to investigate purpose and meaning:
3/ WTF is a good brand anyway? w/ Blake Harrop Global Partner Wieden + Kennedy
We try to do the best creative work possible. Use our platform for the biggest positive impact on the world.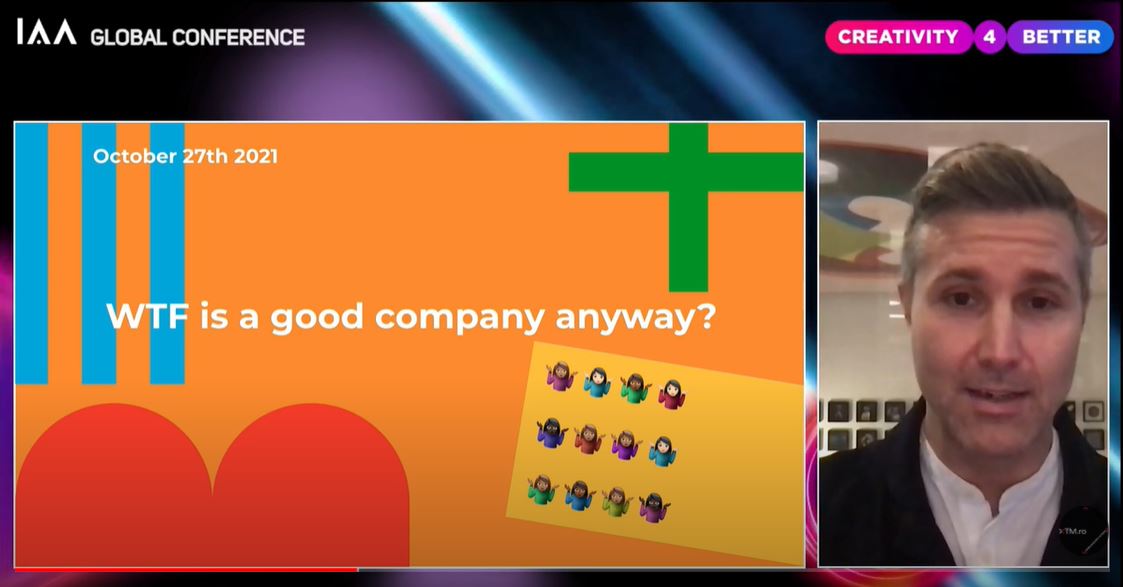 Harmless hyperbole?
Carbon capture has some benefits, but, for example Exxon is investing 16 bill $ in oil exploration, while talking about sustainability. So is that greenwashing?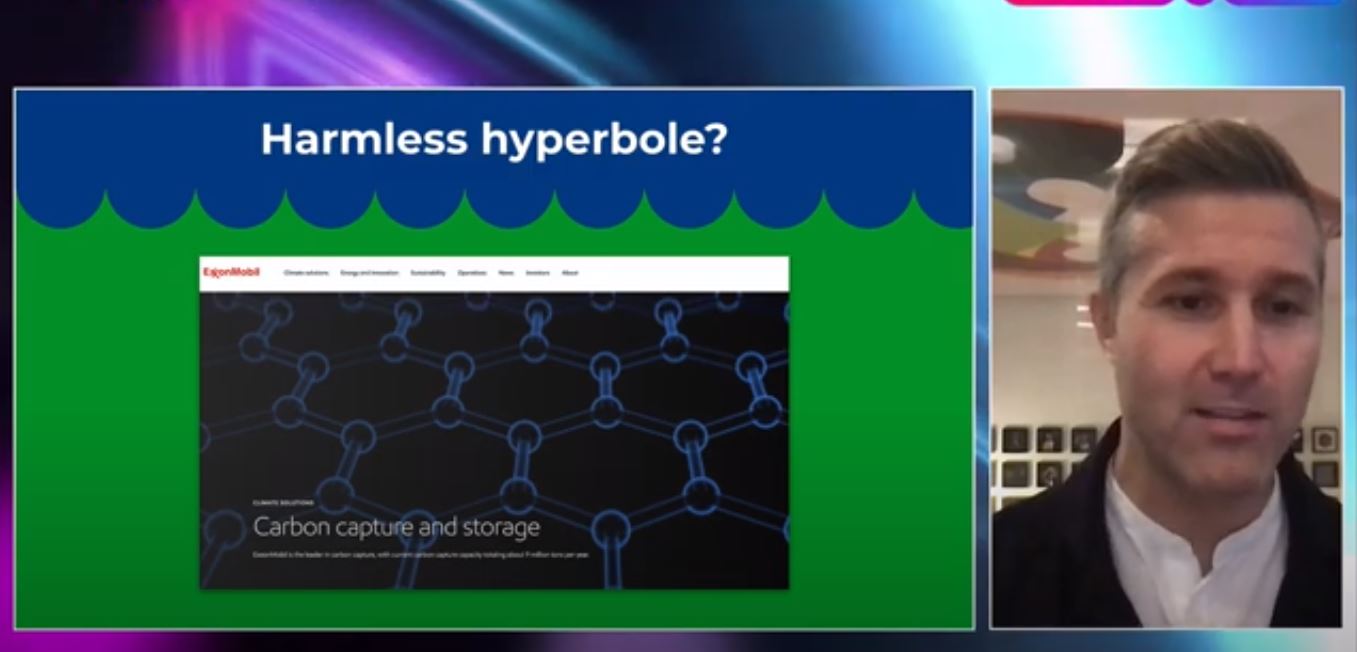 The largest tobacco manufacturer focuses now on smoke free solutions, while investing 100 mil $ in convincing people that nicotine doesn't cause cancer. So how is that believable?
Brands are trying to convince their publics that they are purpose driven.
But who is actually doing good?
If you take everything at face value, you might conclude that everything is fine and that brands are seeking paradise, not profit.
So, in marketing you're going to need a really good moral compass.
The trend of brand accountability started with Web 2.0, and accelerated by the pandemic.
So brands, and employer brands, should think much more what they bring into the world. And this trend will probably be pushed forward by Web 3.0 (crypto, NFTs, DAOs, tokenized contracts). So it's not only a reputational risk, but a reputational value that's going to be affected if brands don't stand up to a moral compass.
Example: GameStop – online communities inflating the value of the company and benefiting from that value as a community.
There are ways to validate a company's dedication to doing good, such as Certified B Corporation.
Notably, in the Q&A section, Harrop also mentioned that W+K strives to bring brands (clients) that their talent is motivated to work with, and avoiding industries like fuels & tobacco. *Round of applause*.
4/ Meaningful brands: a global HAVAS panel
With: MARK SINNOCK, Global Chief Strategy Officer, ERIC SCHOEFFLER, CCO, Havas Germany, MYRA NUSSBAUM, CCO, Havas Chicago, BOBBY PAWAR, Chairman & CCO, Havas India, TRACEY BARBER, Global Chief Marketing Officer, Havas Creative Group
We have entered the age of cynicism.
That was the bold claim opening the HAVAS panel, stemming from a recent research on Meaningful brands carried by the network and available here.
People don't experience purpose, they just hear about it in marketing & advertising.
People want brands to make things better now. DOING, not SAYING!
Customer should be replaced by neighbor, in an exercise of empathy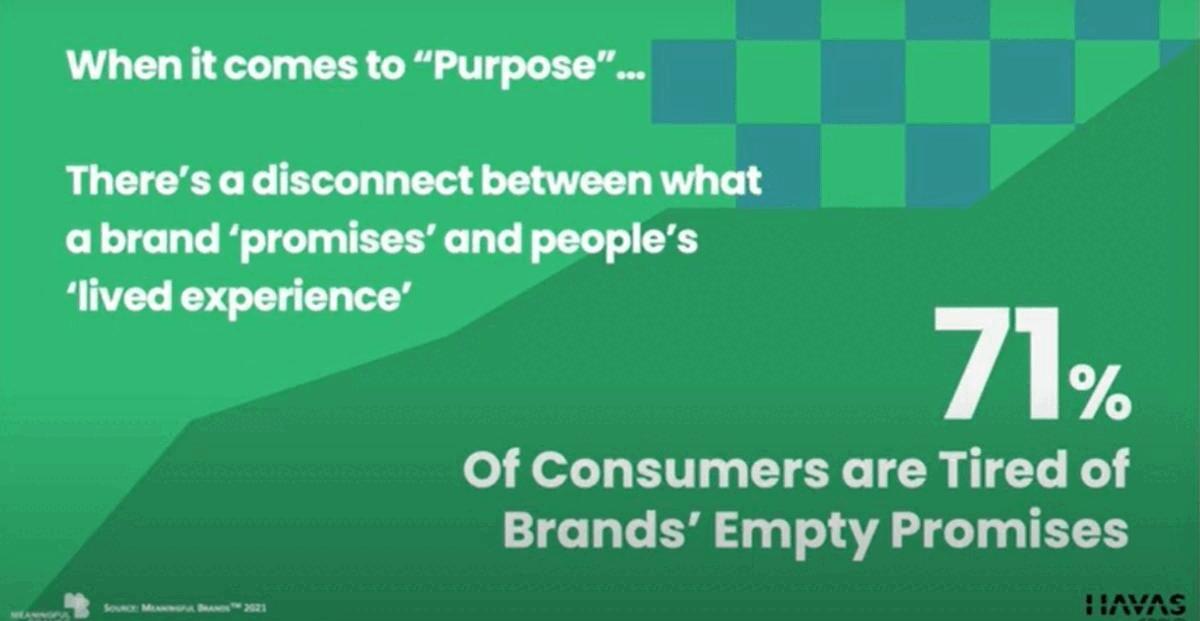 Key take-outs:
71% of consumers are tired of brands' empty promises
"Purpose" is felt to be an empty promise: only 36% feel satisfied with companies' or brands' concrete actions to make the world a better place
Brands say they are making the world a better place, yet most people (over 70%) only experience a world in deep crisis with regards to public health, economy, politics and environment
Only 40% believe companies and brands are working hard at improving our quality of life & wellbeing
Less than half of brands are actually seen as trustworthy (47%)
People expect "purpose" to be consumer-centric and improve their everyday lives
People are willing to pay more for a brand that actually DOES something: 64% of citizens prefer to buy from companies with a reputation for acting with purpose other than just profits
Let's have a look at some creative work from Havas:
Mini Baby Bell – Always stay playful

Durex Mutual Climax – from Havas India
A stance on "orgasm equality". More info on the campaign here. 

Adidas – surrender to the waters – from Havas Dubai

Within the campaign, the agency & client team also developed a liquid billboard in which women (and men) could jump for a swim. Read more about it here.
5/ A Fireside Chat: THE ENDURING POWER OF IMAGINATION, EMPATHY AND CREATIVE BRAVERY
With: SASAN SAEIDI, Global Client Leader – Nestlé, Wunderman Thompson Global, in conversation with UMAIR MOHSIN Chief Marketing Officer, Telenor Pakistan and ASIM NAQVI, Chief Executive Officer, Ogilvy Pakistan
1.1 billion people on the planet are denied official identity!
Pakistan is the 3rd country in the world with regards to unregistered people.
So, how about a Telco brand talking about improving nation's health?
Telco initiative birth certificate 👏

So, how about a Telco brand talking about improving nation's health?
The point is: how can we solve real problems with technology, while working with our home grown talent & home grown initiatives?
6/ Sasan Saeidi's lessons on shifting paradigms
Marketers of the future need perspective, empathy and humility to make sure they lead & inspire with humanity & compassion.
The pivot factor of survival: many of these companies used to have a totally different scope when they started out: Nokia used to be a paper mill company, Suzuki worked with silk and Wrigley's produced soap.
Brands should act as caring corporate citizens.
CARING is your strategy, blending your left brain logic with your right brain principles.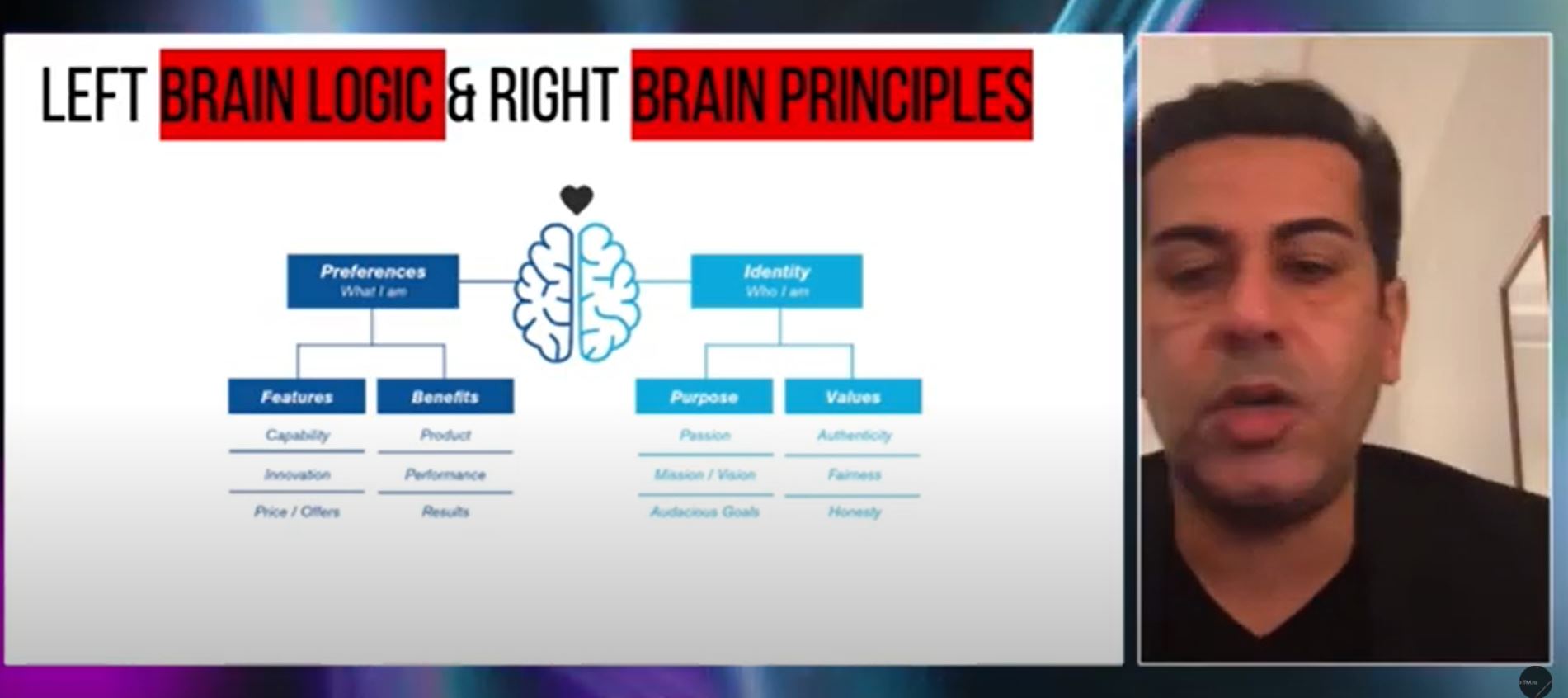 NEW Truth 1: The why as a starting point of your marketing strategy.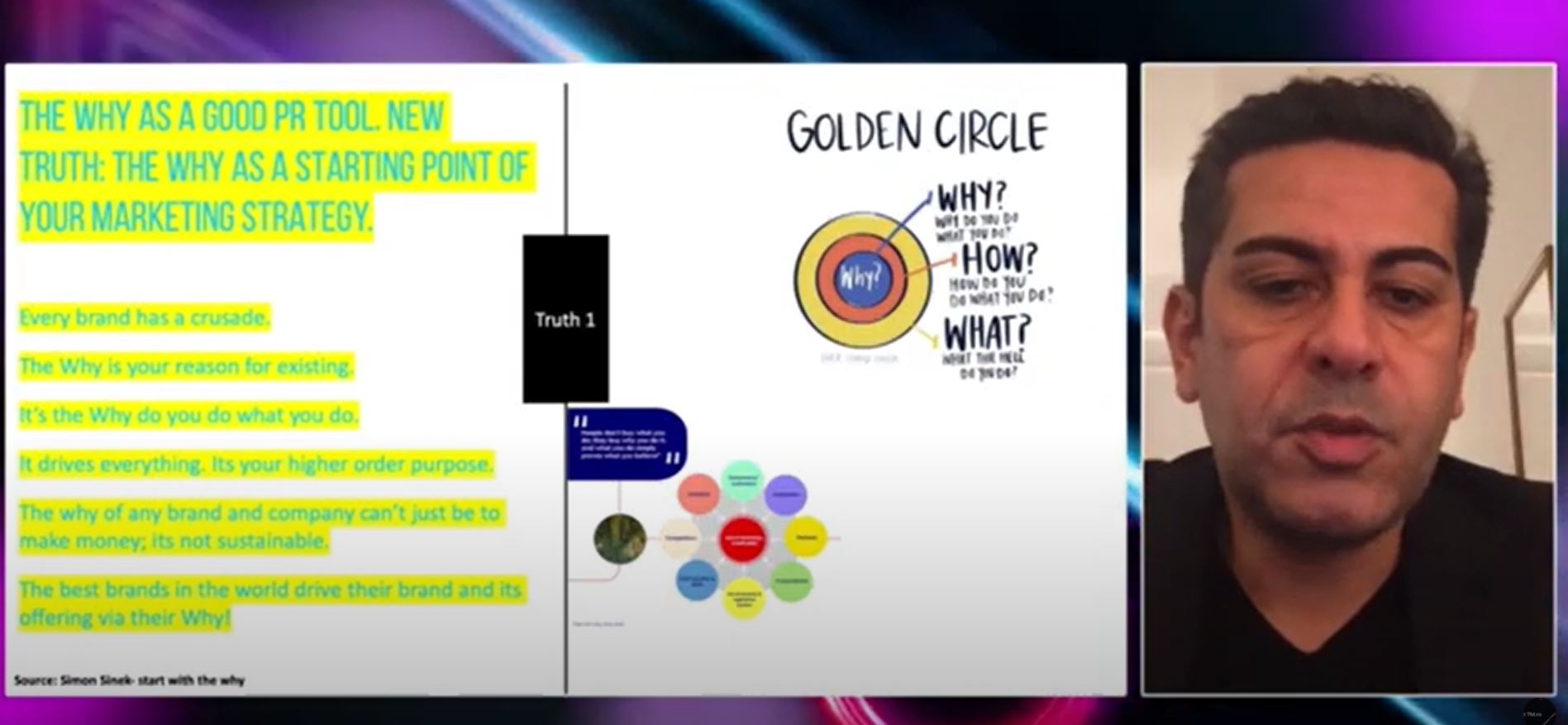 NEW Truth 2: Customers must sit at the heart of your customer journey. We must change the success measures.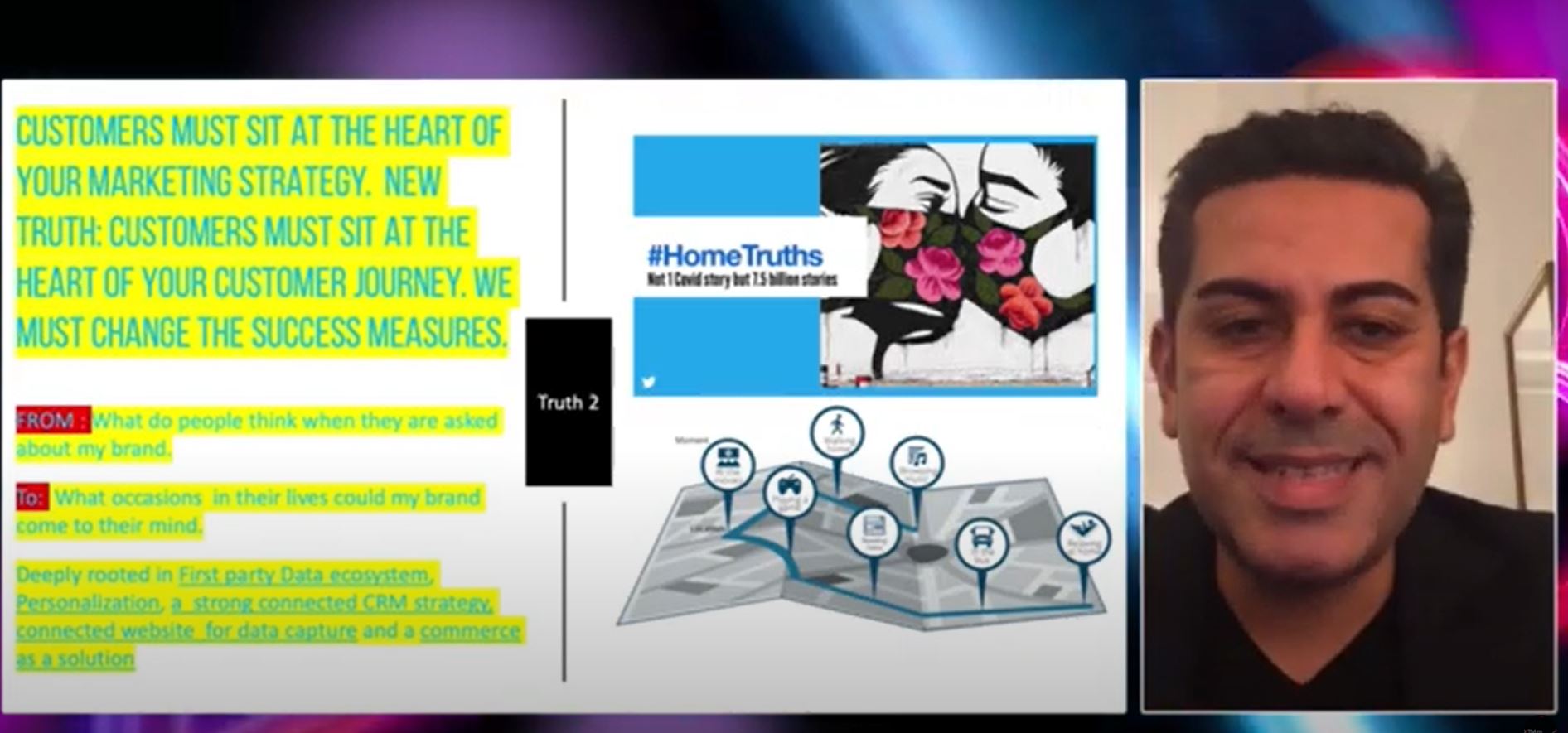 NEW Truth 3: Marketing begins with knowing your customer segment and personas.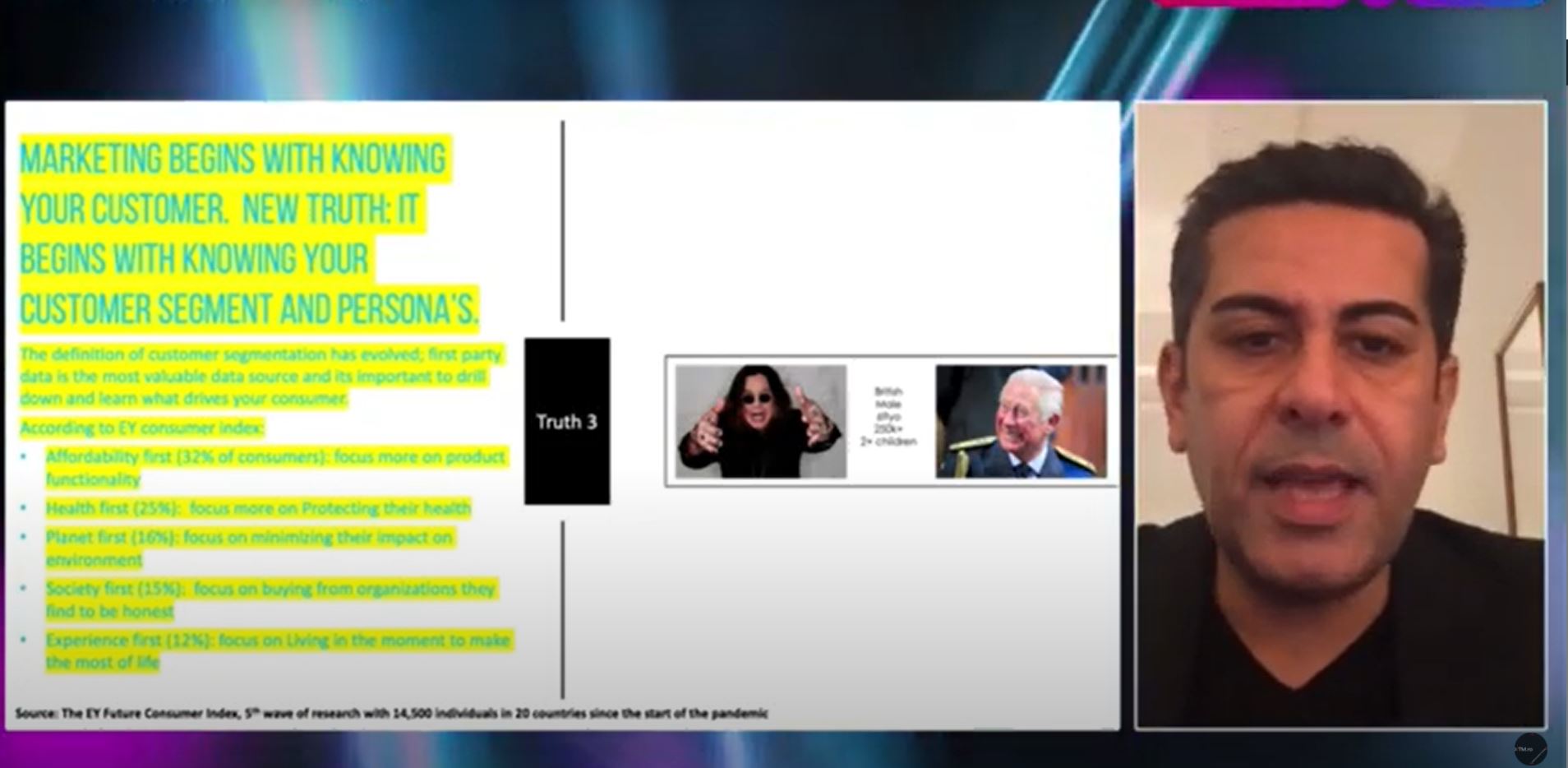 NEW Truth 4: BX B4 CX – Brand experience before customer experience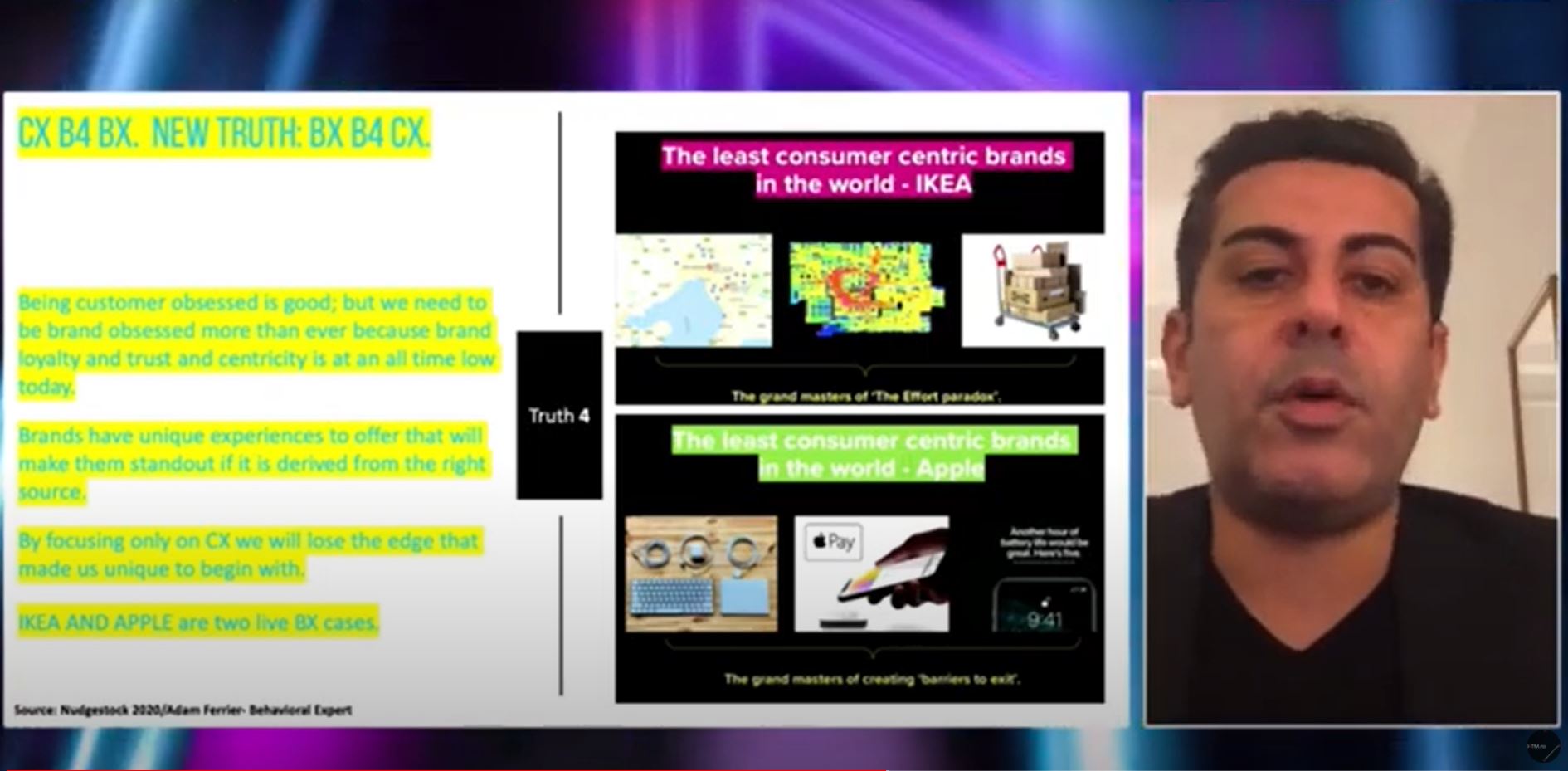 Adam Ferrier, Stop listening to your customer:
"Start hearing your brand. Consumers don't know and in most cases don't care if they are honest. Listening to the consumer will eliminate your brand edge."

NEW Truth 5: Your customer is the person they want to become.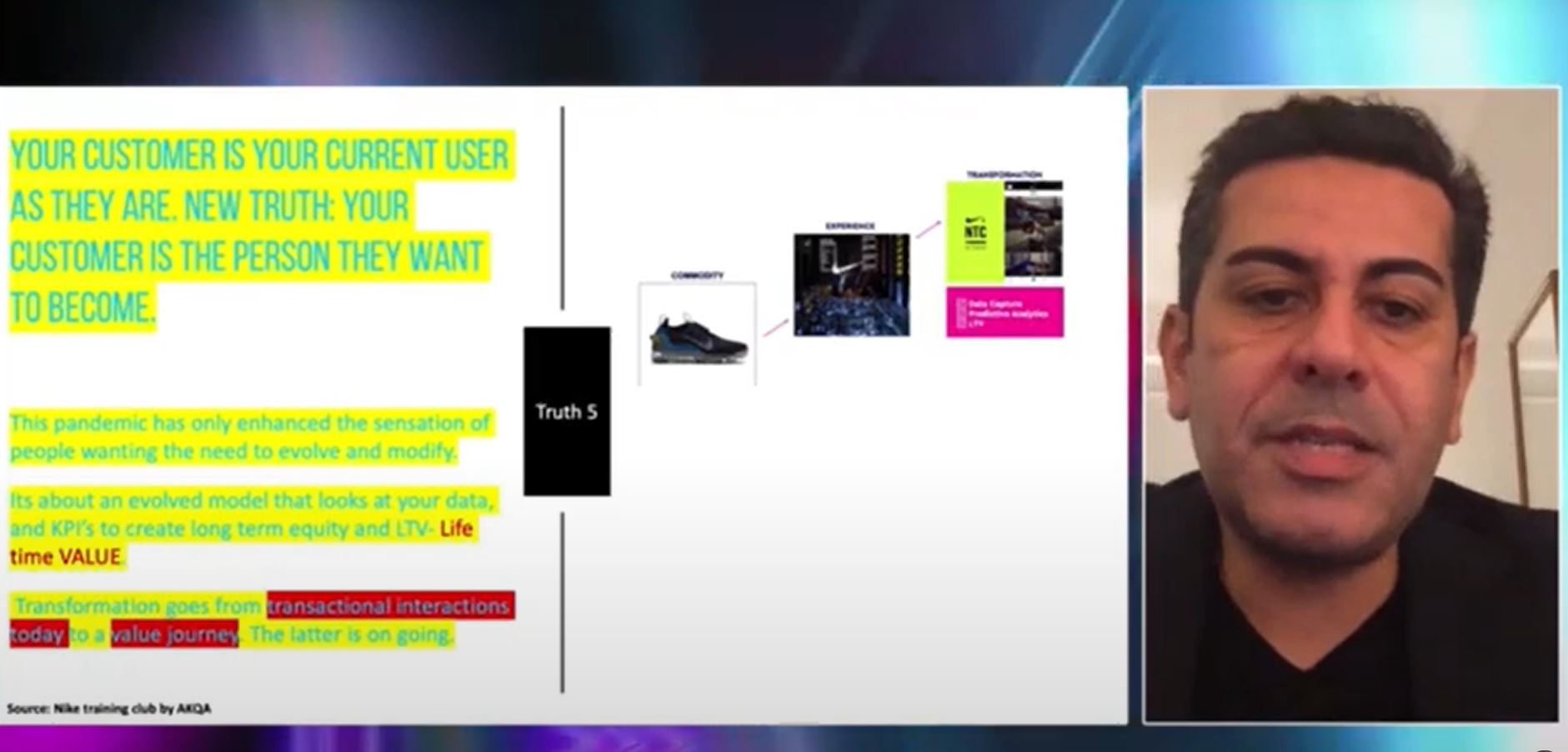 NEW Truth 6: Promises are all you have.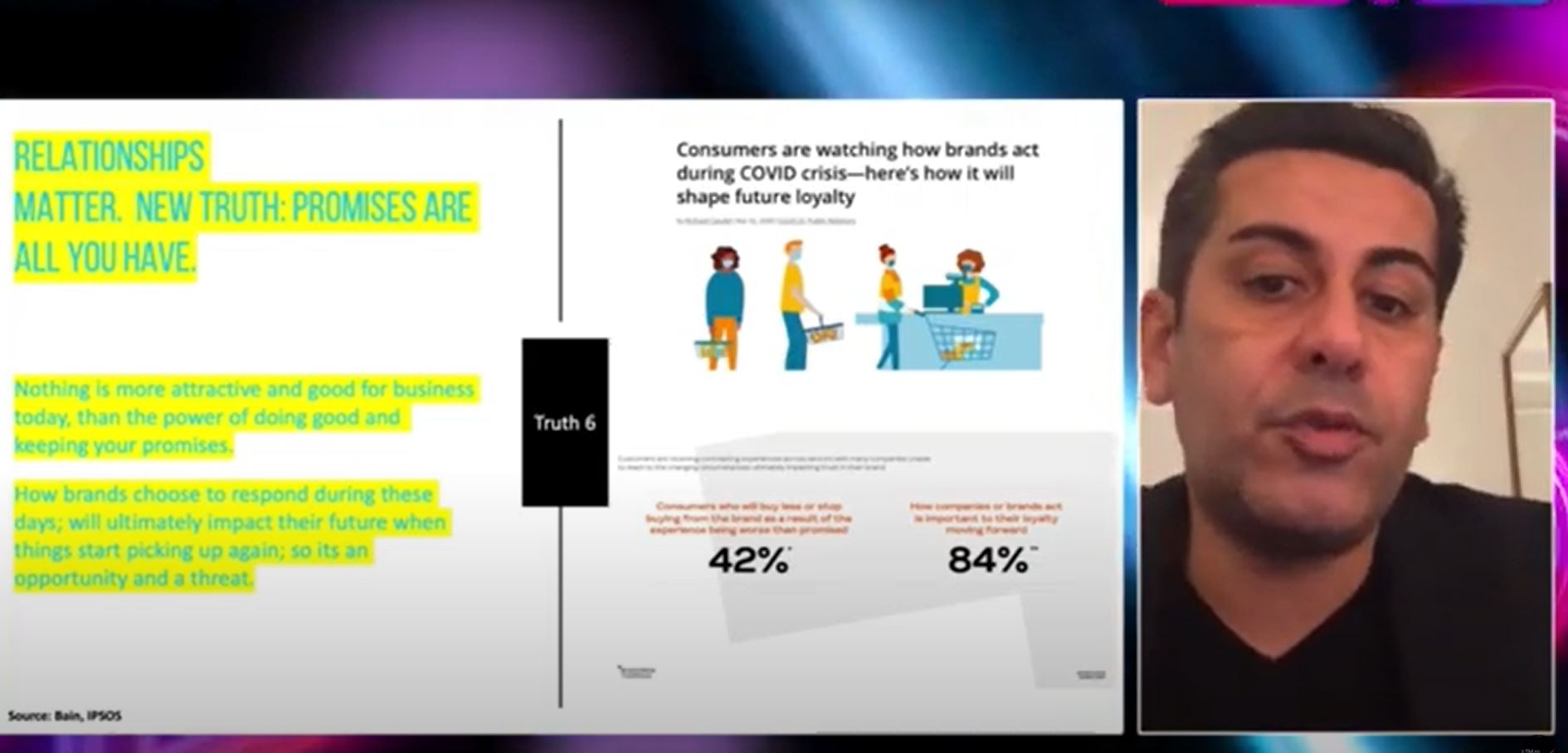 NEW Truth 7: Brands must serve communities and lean in.

ACTvertsing instead of ADvertising.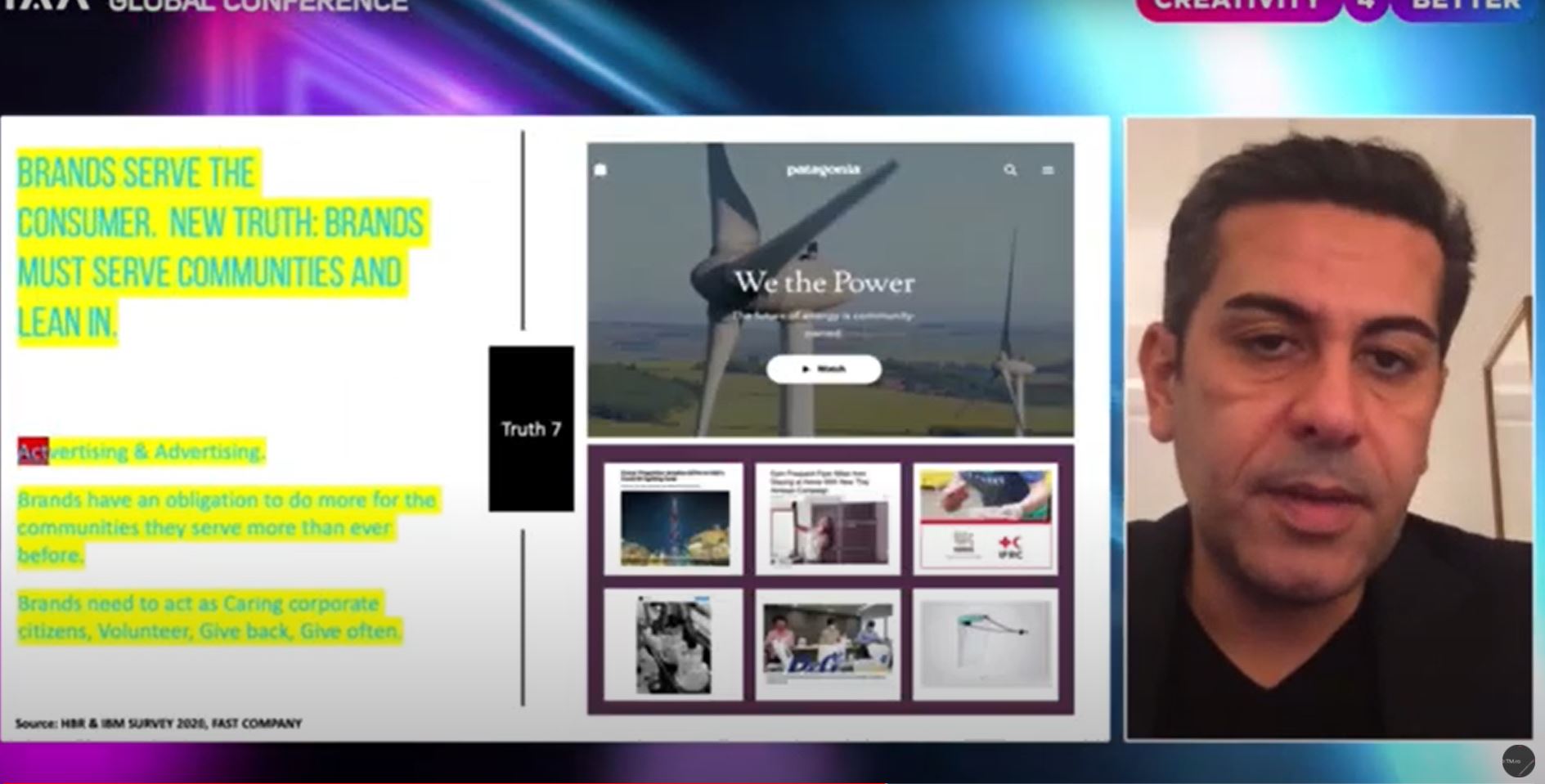 NEW Truth 8: Brands must have an ethical scoreboard.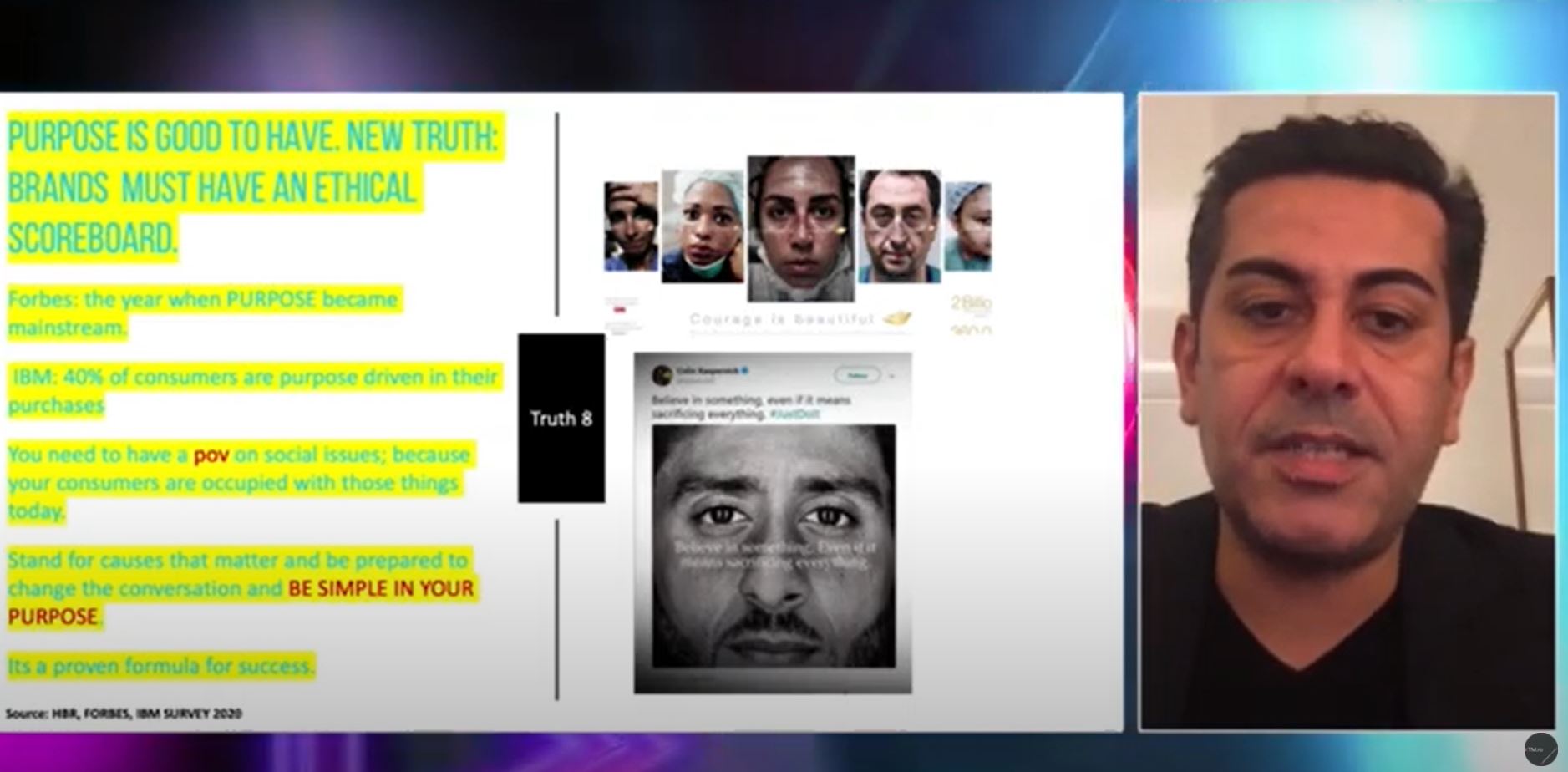 NEW Truth 9: You need to find your brand credentials and join the mental wellbeing conversation.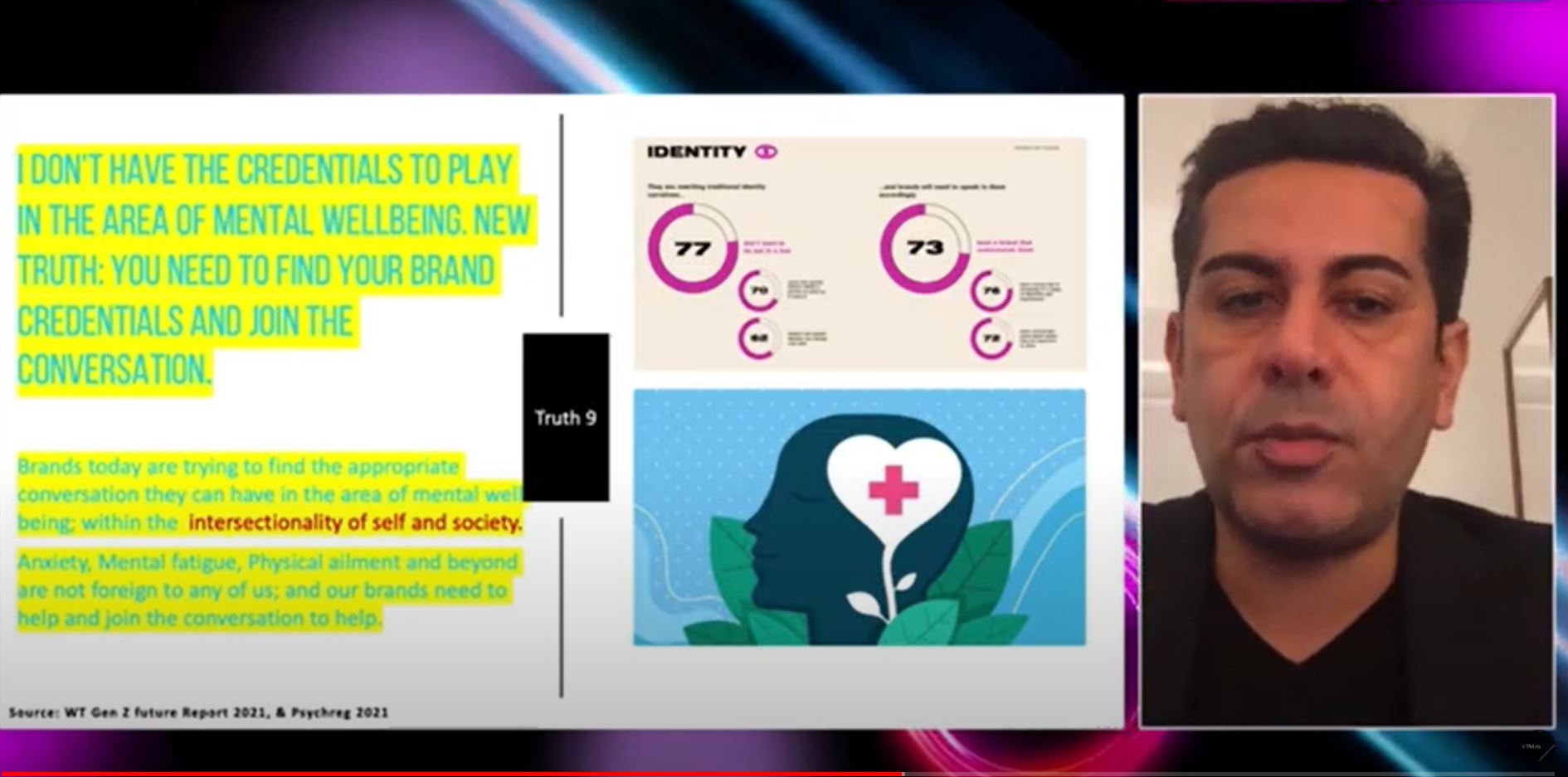 NEW Truth 10: Experiences are created together.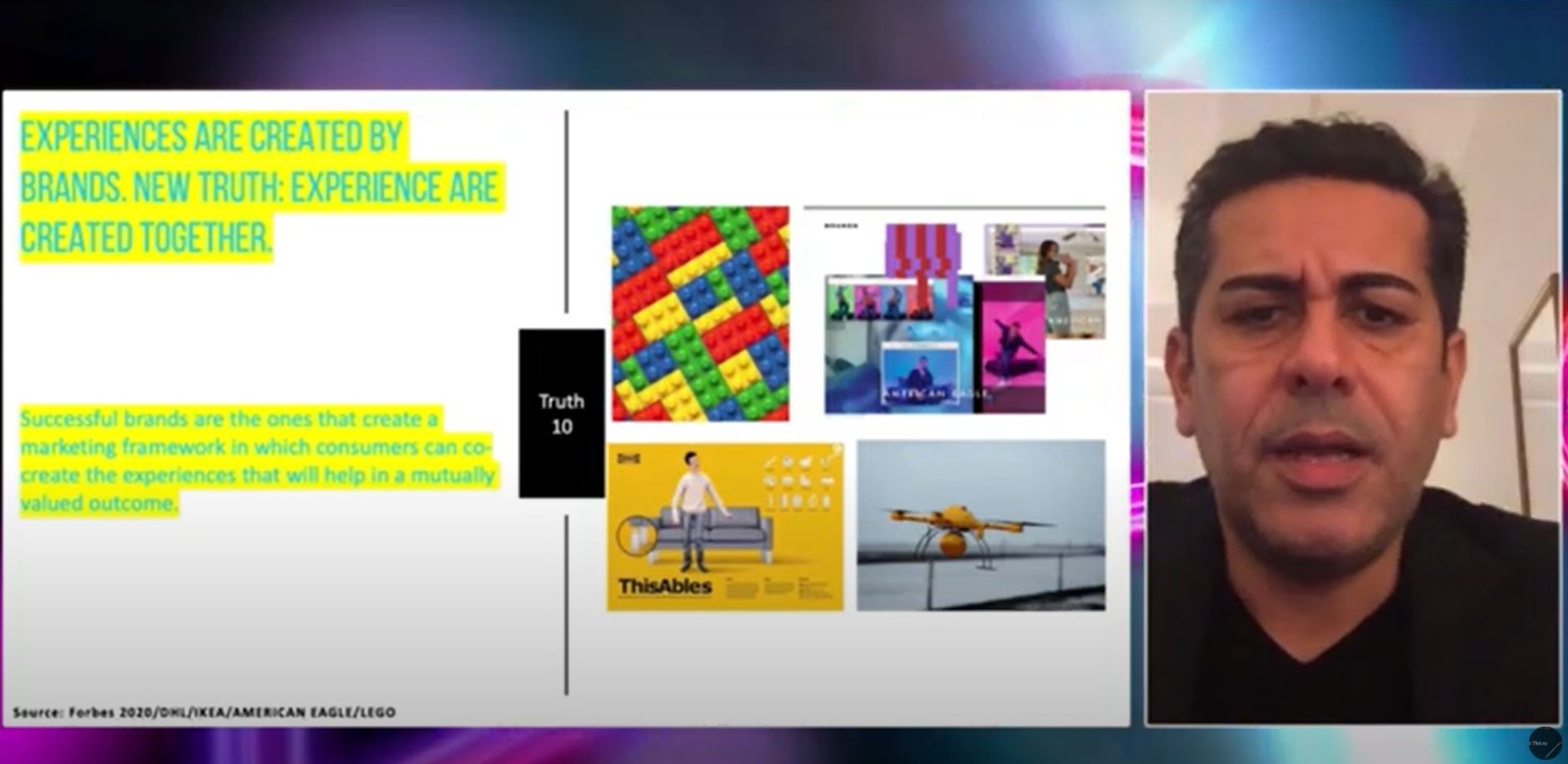 NEW Truth 10+1: Diversity, equity & inclusivity are no longer optional.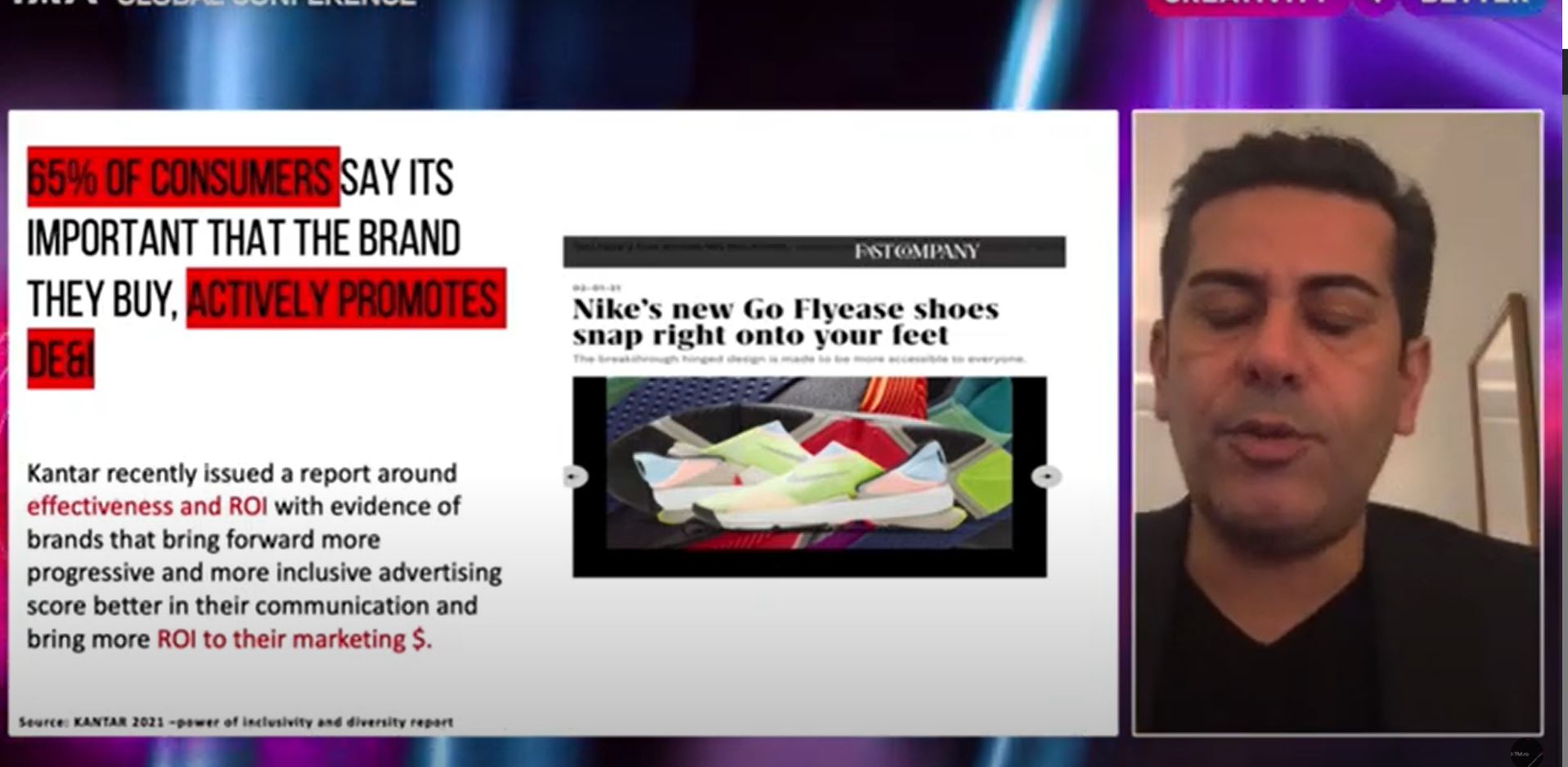 7/ With love, from Facebook: Vince Hudson
Brands should focus on Knowledge, Care, Respect and Responsibility.
Growing is love, and growing a brand comes also out of love.
Drive for clarity of purpose.
Example of digitally serving the community, with love: GlamNetic – Erin McFerry, a digital creator in love with lashes.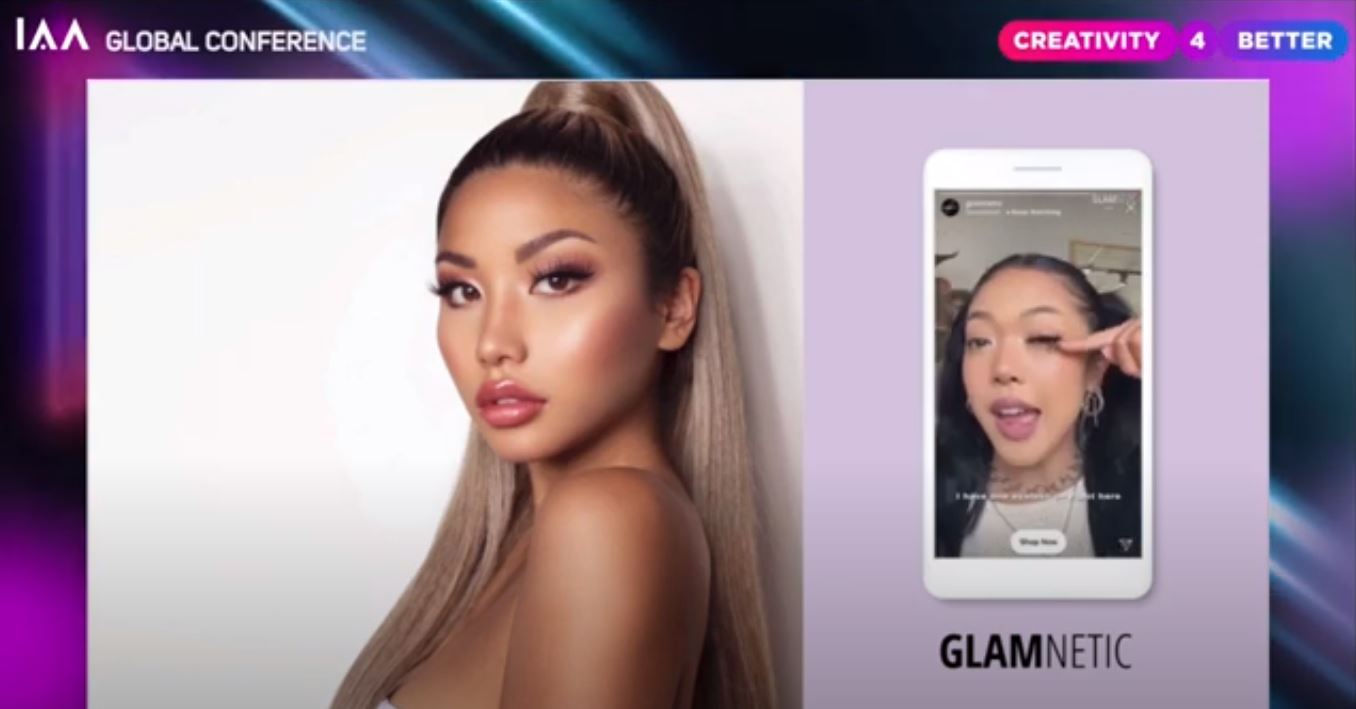 8/ Twitch & e-sports: the power of live digital communities
With: Emily Porter Salmon, from Sign Salad and Adam Harris, Twitch
E-sports is now a 3 billion $ industry.
Nowadays, millennials & GenZers don't focus on a single funnel to express oneself, but have several avatars & personalities online.
Fashion brands can use NFTs as cultural catapults – looking at Gucci virtual trainers.
 It doesn't matter I don't have them physically. I'm ready to invest in an item that displays my social currency.

Explained Porter-Salmon.

"In five or maybe 10 years a relatively big chunk of fashion brands revenue will come from digital products," Wanna co-founder and CEO Sergey Arkhangelskiy told Business of Fashion.
Twitch doubled its audience in 2021, YoY, and in fact that trend kept on every month of 2021!
Obviously, the pandemic generated an increase in gaming. Dropping on your friend's island became the new in-house visit.
Let's look at some highlights:
 Travis Scott, Maurice & Ariana Grande in Fortnight
Block by Block West – A Minecraft virtual festival
Twitch – the solution for how the digitally native would watch TV.
How to engage, as a brand, on Twitch, so that it feels authentic?
Heightening the participatory: information + gamification + monetization.
There is so much excitement on the platform that it can really bring traction for a brand.
For example, Lexus sponsored Fuslie's Twitch channel to debate & decide how funky the new 311-hp Lexus IS F Sport should be. Read about it here.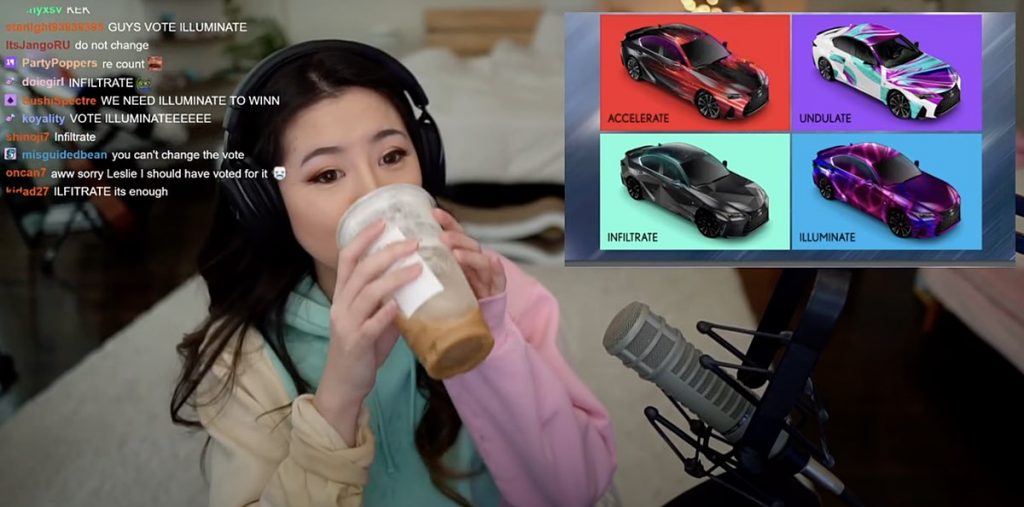 If a brand wants to join Twitch, what would you advise a CMO?
1/  Community first approach: adding value to a community experience.
The creators wouldn't be there without a community, they're fully indebted.
Ask yourself: what value are we bringing to these people for their most valuable assets, time & attention?
2/ Co-create, don't push content.
Let the audience control the experience, let them be called in into content.
3/ Embrace the sell-out.
Authenticity is key, as the audience is massively skeptical. So tell them upfront and they're more likely to accept it.
9/ LOLd with Jaime Robinson, from Joan Creative
Let's first put things into perspective: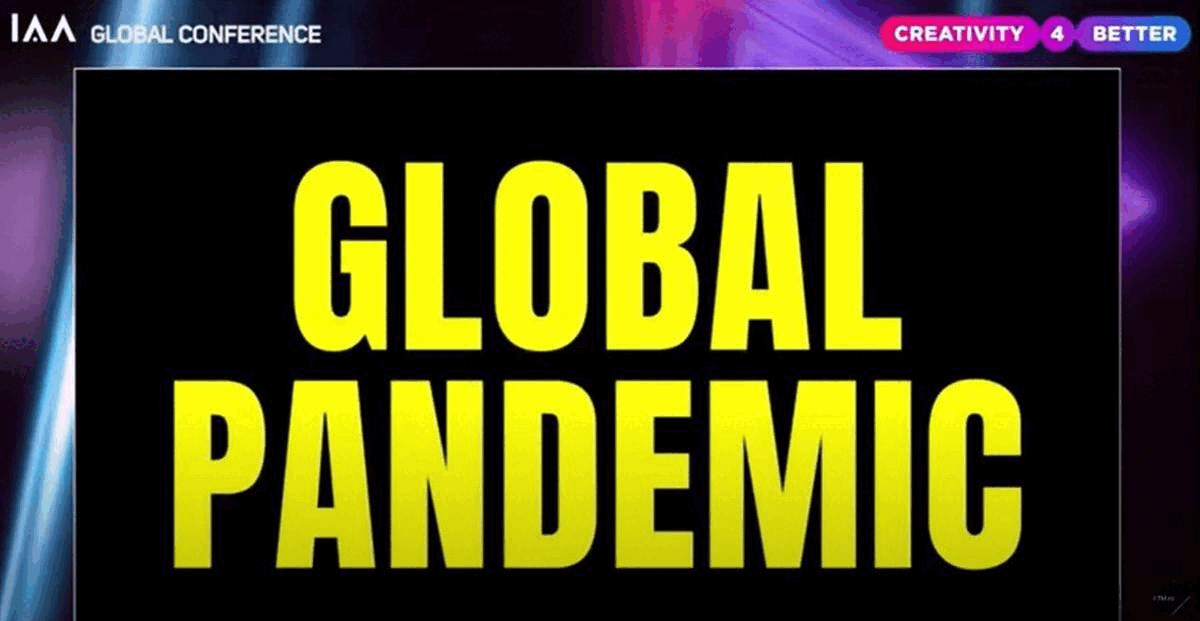 People are looking for these tension breaks everywhere. So bring some laughter around, will you?
That's why Ted Lasso caught on so well.
It's ok for brands to take part in the fun. Studies show that humor links to higher recall, building brand affinity.
Jaime believes every brand can use humor, even those with a more traditional, serious or emotional ToV, as long as they:
1/ Know their audience
But not to broad, otherwise it's going to fall flat.
Make 1 person roll on the floor rather than 1 million roll their eyes.
Example: Potential energy coalition. Same client but 2 very different approaches for 2 very different audiences.
Audience 1: Florida Man
Audience 2: Science Mums

2/ Make it insightful
Hit the heart through the funny bone.
If the people from the target audience are not like you, bring them to the table when conceptualizing, especially if they are from a marginalized community. That way, you'll learn something and create something relevant.
3/ Make it funny
True, honest laugh at the end. A little silly, a little self-deprecating, going to places that you, as a brand, would not go.
Why? To release tension & build affinity.
Check out this pandemic ad from Extra (Orbit):

4/ Make it in time
Humour should be served fresh, not stall!
Some more references from Jaime:
10/ Tom Kelley, Partner at IDEO: Creativity for growth 
Here are some very grounded & to the point tips & tricks from one of IDEO's partners:
1/ Blend technology with humanity.
GE Adventure Series scanners: without making any change to the product itself, the designer came with a simple but big idea making it fun for the target (kids).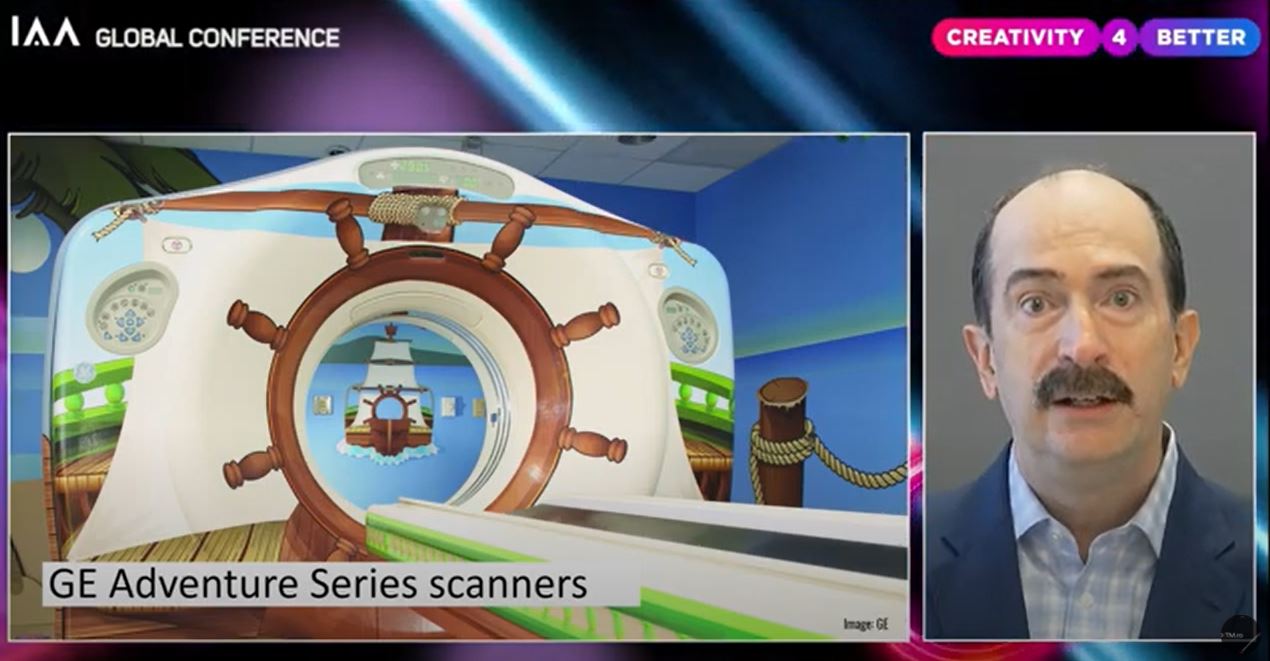 2/ Bring BIG CHANGE in small parts.
Instead of saying:
"I have this big idea that will change everything" you could say
"I propose the following experiment", which may be way more digestible to your colleagues & decision makers.
With lots of small experiments you can bring a big change.
Example: Dyson retail bold experiment, showcasing vacuum cleaners like pieces in a gallery.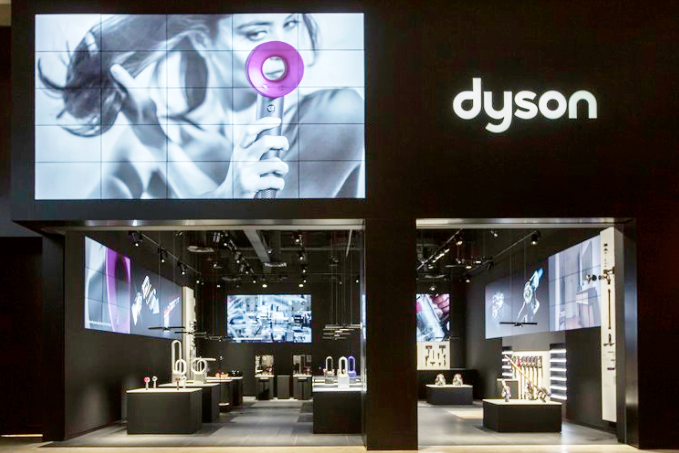 3/ Leverage the power of storytelling
Kelley himself admitted that long ago he wasn't such a believer of storytelling. But when he heard Jobs say "Don't you want to have 1000 songs in your pocket?" referring to the iPod he was convinced.
Because data does not speak for itself.
—
Beyond the creativity & branding content, I also took a peak at the 2 talks focused on AI: Nao Tokui, who's no stranger to Creativity 4 Better, artist & founder of Qosmo. Tokui told the story of the AI Dj and then showcased a newer development of that project, that you can play with in your own browser: neuralbox.net/. We could then listen to Sabin Dima, who presented his humans.ai platform, that promises to help people create AI NFTs and run them as companies. Sounds promising…or at least intriguing!
I hope this content-packed digest of the 5th edition of Creativity 4 Better will help & inspire you in your day-to-day tasks & future decisions 🔝